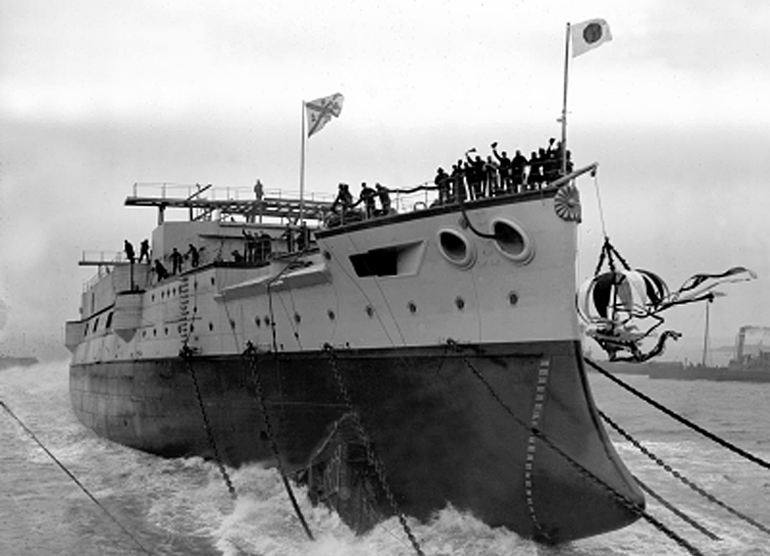 Build of MIKASA
Japan won the Japanese-Sino War (1895-1895), but had to accept humiliation in returning the Liaodong Peninsula ceded from the Qing Dynasty due to the Tripartite (Russia, France and Germany) Intervention and was thus later exposed to blatant Russian military threat. Therefore, Japan endeavored to strengthen its national defense under dire fiscal constraints and decided to promote 6-6 Fleet Build-Up Plan of building 6 Battle Ships and 6 Armoured cruisers.
HIJMS MIKASA was the 6th Battle Ship ordered to built in England and in March 1902 MIKASA was commissioned at Vickers Shipbuilding, Immediately after her transfer to Yokosuka, Japan, In December 1903 when the relationship between Japan and Russia exacerbated, the Combined Fleet was organized and HIJMS MIKASA was designated the Flagship.
This photo shows the launching of HIJMS MIKASA at Vickers Ship yard.
Mikasa Statistics
| | |
| --- | --- |
| Builder | Vickers |
| Laid down | 1899.01.24 |
| Launched | 1900.11.08 |
| Commissioned | 1902.03.01 |
| Std. Disp (t) | 15,140 |
| Length (m) | 122 |
| Width (m) | 23.2 |
| Main Arm. | 12/40×4 |
| Sec. Arm | 6/40×14 |
| Torp / Tube | 18×4 |
| Boiler No | Belleville 25 |
| Main Eng. | Trip. Exp×2 |
| Shaft | 2 |
| H/P | 15,000 |
| Speed (kt) | 18 |
| Coal std. / max. (t) | 700/1,521 |
| Amour (in.) | 9 |
| Complement | 860 |