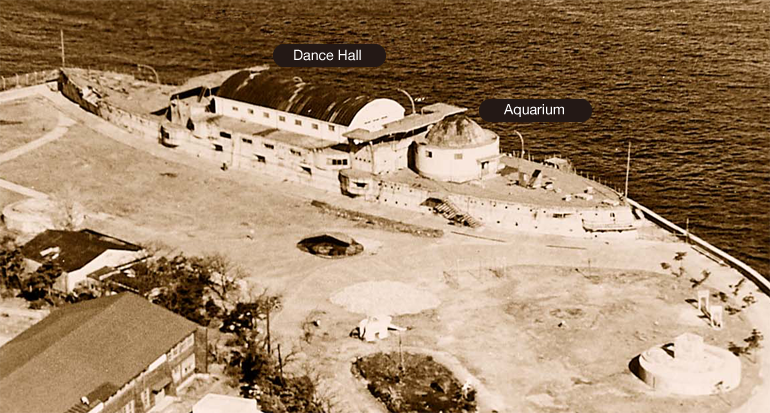 Devastation after WW II
August 1945. Awhen Japan was defeated in the Greater East Asian War (the Pacific War) the Allied Forces occupied Japan and advanced the occupation policy with the plan to weaken Japan. The representative of USSR then emphatically demanded to dismantle One of Three World-Renowned Historic Memorial Warships, MIKASA.
Considering the demand of USSR to dismantle and the request of Japan to save MIKASA, Commander U.S. Naval Forces, Japan gave the permission to Yokosuka City to save and use MIKASA with the condition as a compromise to remove upper constructions such as, Bridge, Turrets, Guns, Funnels and Masts.
However, the private enterprise which was entrusted with the reuse of MIKASA and its surrounding area from Yokosuka City, not only changed MIKASA as an amusement facility by building a dance hall and an aquarium on the space where the upper constructions were removed but also the enterprise had sold out those guns, masts and other items kept near MIKASA. This shows the deterioration of heart after the war.
Such entertaining facilities were prospered for a time but the facilities gradually lost their business. MIKASA was left derelict without any care and turned out rusty and miserable iron scrap.